Most useful customer reviews
Dulcie smith
Bournemouth
OLIXAR cube
11 Maj 2016
Very good
Whilst I am very pleased with item and the excellent service.i have one question should there not have been a charger cable included? Can you please get back to me on this? Thank you.
Pamela Page
Northampton
Olixar light cube portable Bluetooth speaker
23 Styczeń 2016
Bluetooth portable speaker.
I am very pleased with this Bluetooth speaker, it's good to be able to hear it well from different rooms and the colour changing lights on the cube makes it look more interesting, very good device to play from my kindle fire tablet .
12 Listopad 2015
Great little gadget for the money
I provide music therapy to people with dementia and needed a good portable speaker for my ipad. This little cube fits the bill. It's sturdy (I have dropped it!) and tactile with s smooth Perspex finish. The colour change effect is engaging and the sound quality is clean and consistent. I charge it from my laptop and the Bluetooth works great with the ipad. Had difficulty connecting to my laptop via Bluetooth but having to connect by cable isn't reallysuch an issue. I think it's my best buy in ages!
60 Recenzje
|
Napisz recenzję
---
Dodatkowe informacje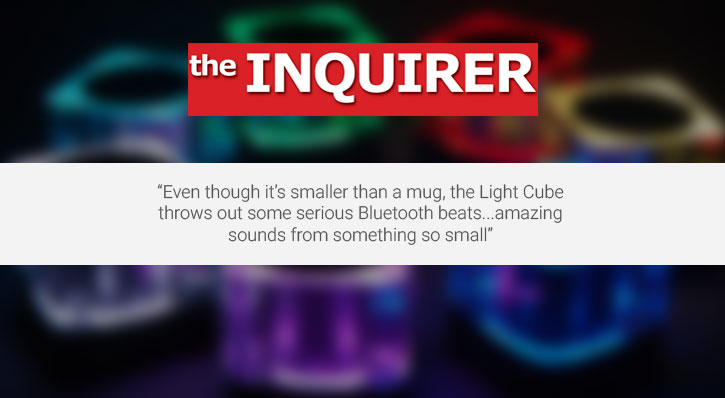 Powerful sound from the compact design
The Olixar Light Cube delivers wonderful crystal clear playback from a variety of Bluetooth and non-Bluetooth devices.
Not only does this system pack a punch for its size, but it also delivers recognisable bass tones so you can appreciate the full diversity of music genres.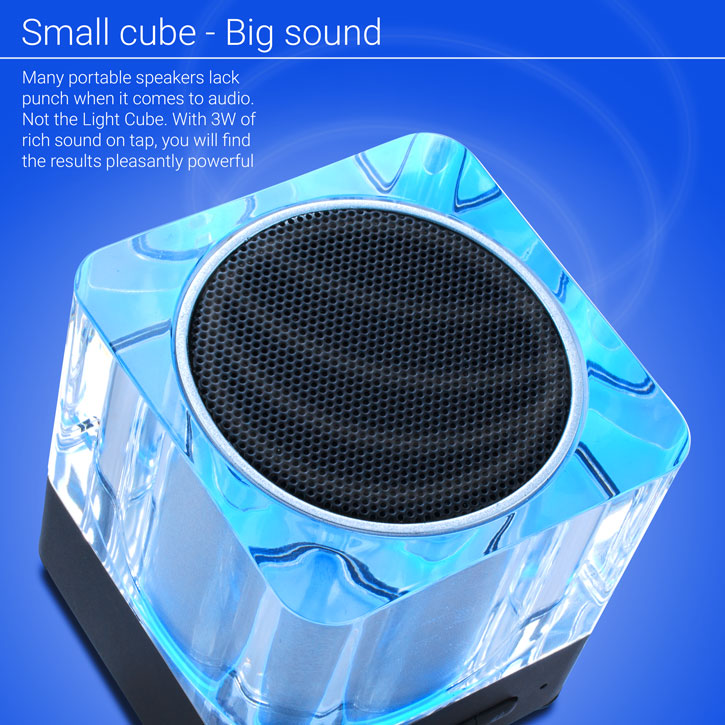 LED ice cube design provides a contemporary look and feel
Manufactured to look like an ice cube, the Olixar Bluetooth Speaker features a clear rounded design that fills with light at the touch of a button, allowing you to match your mood and bring your music to life. Not only is this speaker extremely stylish, it is also incredibly robust while the Light Cube's detailing complements any device it's connected to.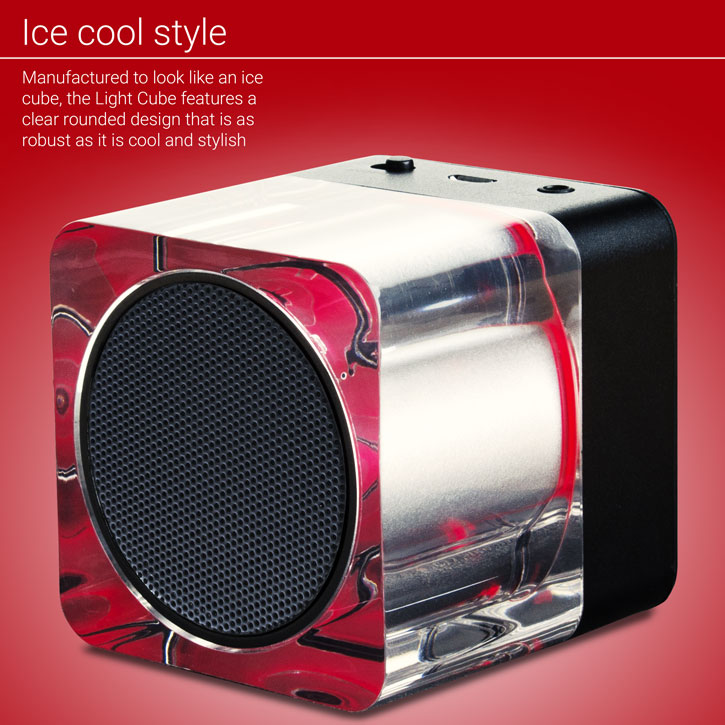 Ultra compact and portable
Olixar have developed the Light Cube Portable Bluetooth Speaker to produce a bigger, better sound. For convenience - the volume, track and light controls are located on the Light Cube so you can control your music from the speaker, changing the track and volume even when your device is in use.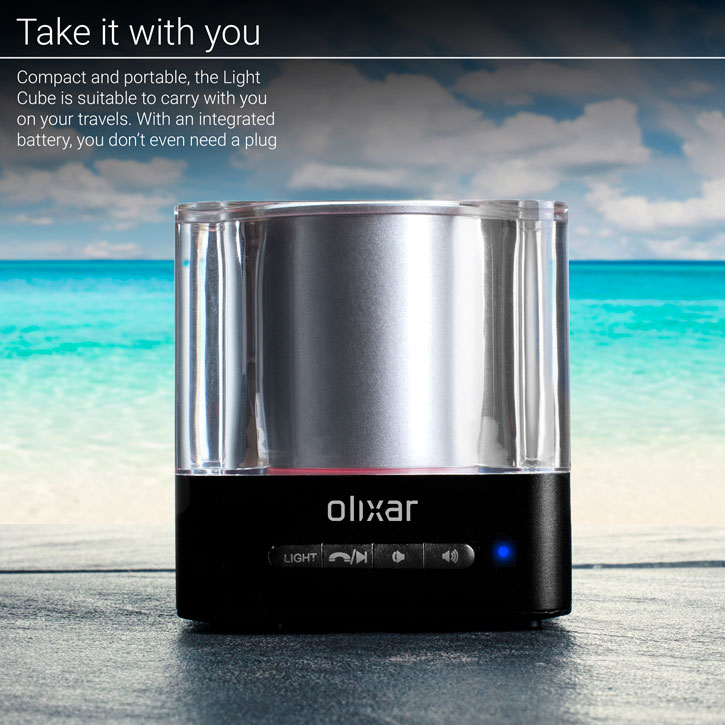 7 selectable LED colours
Set the mood to match your music selections with an impressive 7 colour options available. With blues, greens, yellows, purples and reds - the Light Cube is more than just a speaker, it is a beautiful centrepiece for your musical entertainment that is meant to be seen... as well as heard.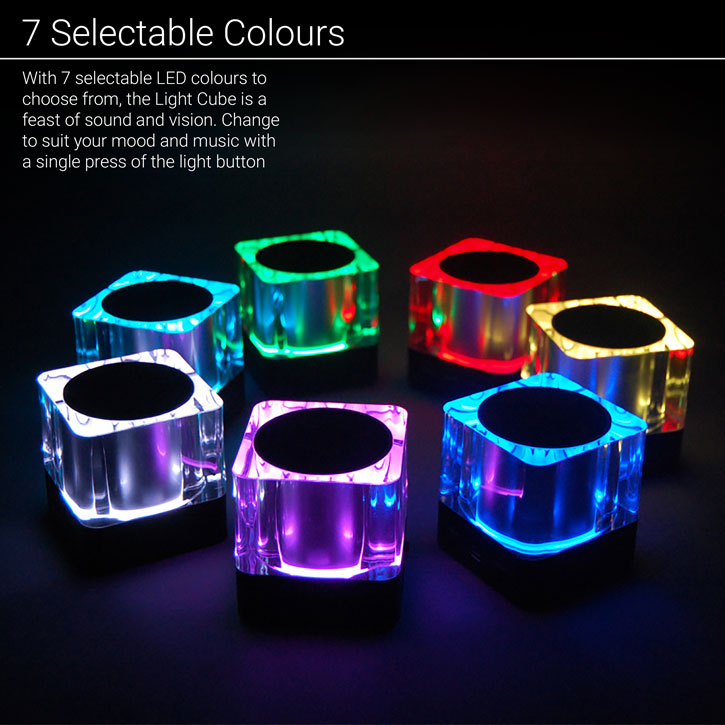 Compatible with all wireless Bluetooth devices
The Light Cube Portable Bluetooth Speaker is the perfect companion for all your devices including iPhones, tablets, smartphones, laptops, netbooks and computers. This gives you the flexibility to share your speaker with all of your devices.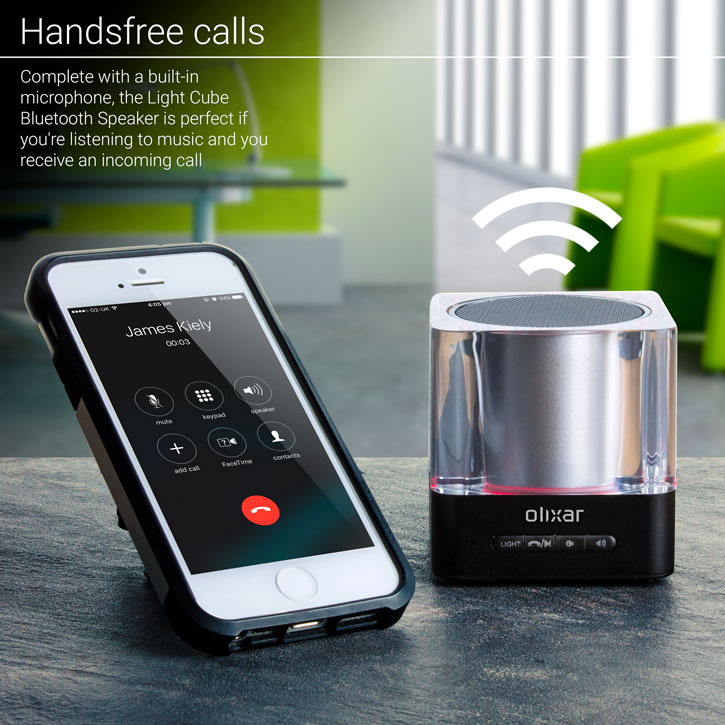 Built-in microphone allows crisp conference calling
Complete with an built-in microphone, the Olixar Light Cube Bluetooth Speaker is perfect if you're listening to music and you receive an incoming call as it allows you to answer the phone and speak clearly through the speaker. This makes it particularly great at conference calling or for personal use with video chat programs such as Google Hangouts®, Skype®, FaceTime™ and more.
Built-in Li-ion rechargeable battery giving up to 5 hours of constant playback
With a built-in Li-on rechargeable battery, the Light Cube from Olixar gives you a massive 5 hours of playback time, keeping the music going all night. When the battery finally runs out of charge, simply connect the Micro USB charging cable and your speaker will be back to full charge in no time.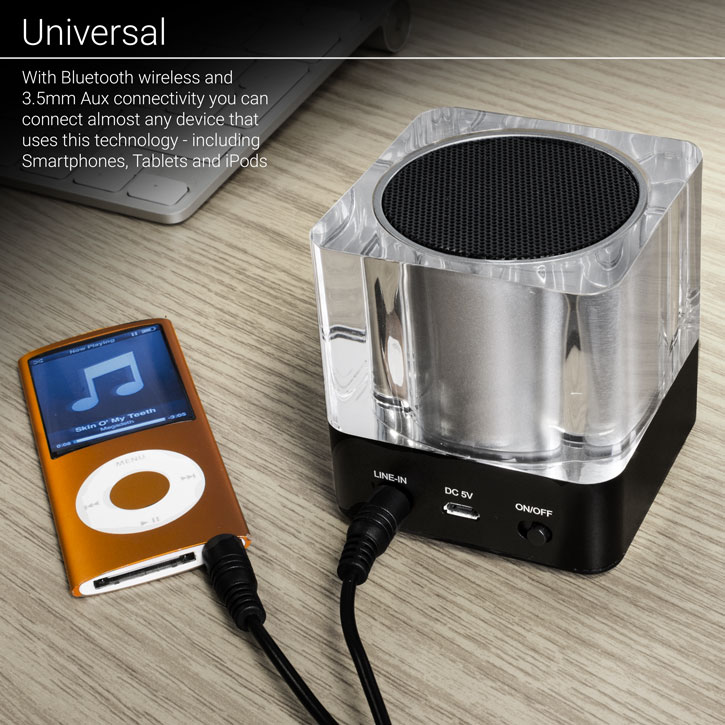 Line-in port and cable for use with non-Bluetooth devices
The Olixar Light Cube Portable Bluetooth Wireless Speaker doesn't just work for Bluetooth devices, it also comes with a 3.5mm line-in port cable so you can connect the speaker to pretty much any music device on the market today.
Specifications:
Speaker output: 3W
Width: 67cm
Height: 64cm
Depth: 64cm